Red Light Therapy and Animals - A Great Treatment Option For Dogs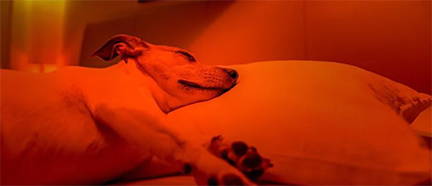 Did you know your pets can also benefit from the healing properties of Red Light Therapy as well as humans? The healing effects of Red Light Therapy is an established treatment for animals, and can be just as beneficial for pets as it is for humans.
Below, we break down everything you need to know to assist your dogs in not only their healing journey but to promote their overall wellness too!
From a Rouge customer: "Amazing product! I was skeptical, I heard about red light therpy and thought ya right, light healing, you sure? But then my dog tore her acl. we tried everthing spent 100s of dollars on doctor visits and pain liquid, nothing worked so surgery was the last thing. My dog was physically in pain and it broke my heart. I searched the internet all day tryin to find a cure and came up with nothing. It was until I prayed and asked god to send me something anything to help her. I searched it on google and boom I found red light. I bought it and within 4 days it was shipped to my door, free. I was stunned at how fast it came... 5 stars just for that...I tried it on my dog for 10 15 min as the instructions said and no word of lie, my dog could stand again. It was insane how it worked. She layed there in pain and after 15 minutes she was walking again and happy full of life. Cant tell what it feels like to see my dog walk again. Just greatful I found it. To anyone wondering if this works or not? It definitly does and the craziest part is it is powerful!"
Effective treatment for dog injuries using Red Light Therapy
Vet bills can be costly. Stress over the unknown complications of an injury can be worrisome. This easy to use, at home device is non-invasive and provides a holistic treatment for a variety of illness and or injuries your dog may endure. Our Red Light Therapy devices are designed to not only help you therapeutically but also your four-legged friends as well.
Dogs and cats are consistently shown to respond well to the use of Red Light Therapy. Our canine companions suffer similar injuries, inflammation and age-related degeneration as we do; and are just as prone to inflammatory responses to sprains, cuts, and pain. Red Light Therapy provides an effective treatment for the following issues:
Tendon issues
Joint paint
Scratches
Salivary issues
Soft tissue and or cuts
Arthritis
Sore muscles
Infections
Inflammation
Pain management
Strains and sprains
ACL tears
In studies Red Light Therapy shown to promising results for:
Pain relief and management
Improved immune cell response
Healed scars and scratches
Reduced inflammatory response
Increased mobility and range of motion
Relaxed muscles
Improved mood
What to Expect when using Red Light Therapy with your dogThe support your dog needs to live that happy active life
During a Red Light Therapy treatment with your dog, you can enjoy playful moments or just relax side by side during their therapeutic session. Depending on your dog's condition, the results may differ, however Red light therapy has been shown to assist in minimizing the scar tissue as it helps boost circulation and brings more oxygen to the affective area. Red Light Therapy has shown the potential to increases oxygenation while promoting cellular regeneration and repairing damaged tissue. You can expect to see an improvement to cuts and or scratches while simultaneously increasing your pet's energy. It may be important to note that if you're trying to target a particular area, carefully shaving the immediate area may be suggested so that the spot can be exposed for effective healing. Most dogs enjoy the warmth, so chances are, this will be an enjoyable and comfortable moment for your dog's healing journey.
The support your dog needs to live that happy active life
Is your pet suffering from fatigue? Maybe getting older and lacking the energy they had in their younger years? Sedentary dogs may have lower energy than their more active canine counterparts. An easy solution to increase a dogs natural energy level can be to use a Red Light Therapy device. Red Light Therapy works by stimulating energy production within the cell so that damaged and or aging cells can repair themselves better and work more efficiently. The Red light photons emitted from our devices can be absorbed by your dog's cells and then will be converted to energy. This energy produced will then convert internally and stimulate the production of adenosine triphosphate (ATP), the most active ingredient for energy production for nerve impulse and muscle contraction, not to mention speeding up the bodies response to heal and regenerate damages tissues at the same time.
Some incidents that may surprise us and we are not prepared for include bites and attacks your dog may endure during a hike and or walk roadside. Because Red Light Therapy increases the cellular repair process, it is theorized that it can reduce the pain and swelling from rodent and or reptile bites.
Does It Really Work? Canines Experience Proven Results
Studies show that dogs treated with Red Light Therapy can enjoy improved recovery when it comes to wound healing. The primary effects of laser therapy start with those photons and can induce activity at the cellular level. Compromised tissues have been shown to have a significantly higher response to light therapy. The results of
this 2018 study
demonstrate that the preoperative use of low level laser therapy for dogs undergoing surgery may improve postoperative function and assist healing. Therefore we see the wavelengths from Red Light Therapy significantly accelerated healing in dogs.
Red Light Therapy presents a proven method to energize cells, assist with joint pain, arthritis and complications associated with aging pets
in this 2018 study
. The study outlines a significant benefit with the use of Red Light Therapy, also known as photobiomodulation, for canine pain management programs; presenting a low risk, pain-free, and non-invasive treatment option. The data presented provides a holistic approach to arthritis that seems to be common in some breeds, such as hounds and bulldogs. Growing evidence supports that Red Light Therapy is becoming the go-to treatment for such conditions and accomplishes these objectives by generating an increase in localized blood flow resulting in restructured cell growth.
Simply put, Red Light therapy means more energy is available to flow within the tissue to product a therapeutic effect and allow for cells to conduct their processes. Many studies have been documented, particularly as they relate to a decrease in inflammation and is noted as a great pain management device. With an increase in endorphin and serotonin production, studies also support the effects of forming new blood vessels and generating new neurons in living tissue. Consistent use promises results for long term benefits while promoting cellular regeneration skin deep.
Before implementing any RLT protocols for your canine companion, we suggest to consult with your veterinarian to ensure the proper protocols are in place and are appropriate to your dog's condition. Red light therapy use can be used for cosmetic and medical purposes, although its important to acknowledge that red light therapy is not a cure-all for every ailment your pet may endure, however RLT encompasses a large spectrum of benefits. Although red light therapy is nothing new to veterinarian use, it is only recently that Red Light Therapy has gained mainstream attention and has become more easily accessible and readily available due to the technology and science that has evolved. As regenerative therapies become clearer with continued studies, Red Light Therapy appears to be an important pillar for your pets overall wellness, health and vitality.
Whether you are choosing a Red Light Therapy device for your fur baby or shopping for their human too, we have a variety of lights that can provide anywhere from targeted treatments to full body therapy
with the Rouge Family of red light therapy devices
- Treat your dog and yourself today!