Your Guide to Choosing the Best Red Light Therapy Device for Your Needs
Rouge offers the most powerful and effective red light therapy devices on the market today. Opting for a Rouge Red Light Therapy panel, then, is the easy and obvious choice (and we're not just saying that - we've got the receipts here). However, the decisions don't end there. Our range of panels is designed to give users flexibility in choosing a device that meets their specific needs. You likely know what your needs are (and if you're not sure, here's some reading to help you determine how red light therapy might benefit you). But which is the best red light therapy device for those needs? Let's take a look.
From a Rouge customer: My husband and I have been using our Red Light Panel for about 4 weeks now and we both love it! It has made a huge difference on sore muscles and aching joints! I just ordered a second panel today, can't wait for it to arrive!! Thanks Rouge


Factors That Might Affect Which Red Light Therapy Device You Choose
Cost: A red light therapy device is an investment, and in fact, they're one of the few things in life that you don't want to skimp on. Contrary to pricey red light therapy sessions offered in a clinic or spa, however, our devices are a one-time purchase that offer unlimited treatment. When you spread out the cost over a lifetime, it's barely a blip. Rouge red light therapy devices range not only in size but in price as well, with smaller panels having the same power and concentrated irradiation as larger panels. The only difference is the size of the surface area you can treat at one time.
The issue you want to treat: If you're looking for all-over pain relief for, say, fibromyalgia or to improve your full-body fitness gains, a larger device will be more efficient. However, for facial skin rejuvenation or arthritis in your hands, for instance, a smaller device might fit the bill. Just remember that the larger device will also treat these issues while improving other areas of the body at the same time.
Time spent away from home: If you travel a lot, you might prefer to opt for a smaller device that can be packed in your luggage so that you can maintain a consistent treatment schedule.
The size of your living space: This might not necessarily affect which device you purchase, as all of our devices are designed to be as sleek and compact as possible. In fact, they can easily be hung on the back of a door or tucked away behind furniture while not in use. However, your living space may affect which accessories you choose. For those who want the spa experience in their own home, we offer a horizontal rack that easily fits over a massage therapy bed or a sofa.
Whatever your needs or limitations, Rouge has got a solution for you. In fact, we'll even work with you to design a custom device if you have very specific requirements that can't be met by our line of products. Just send us a message!
But first, here's the lineup!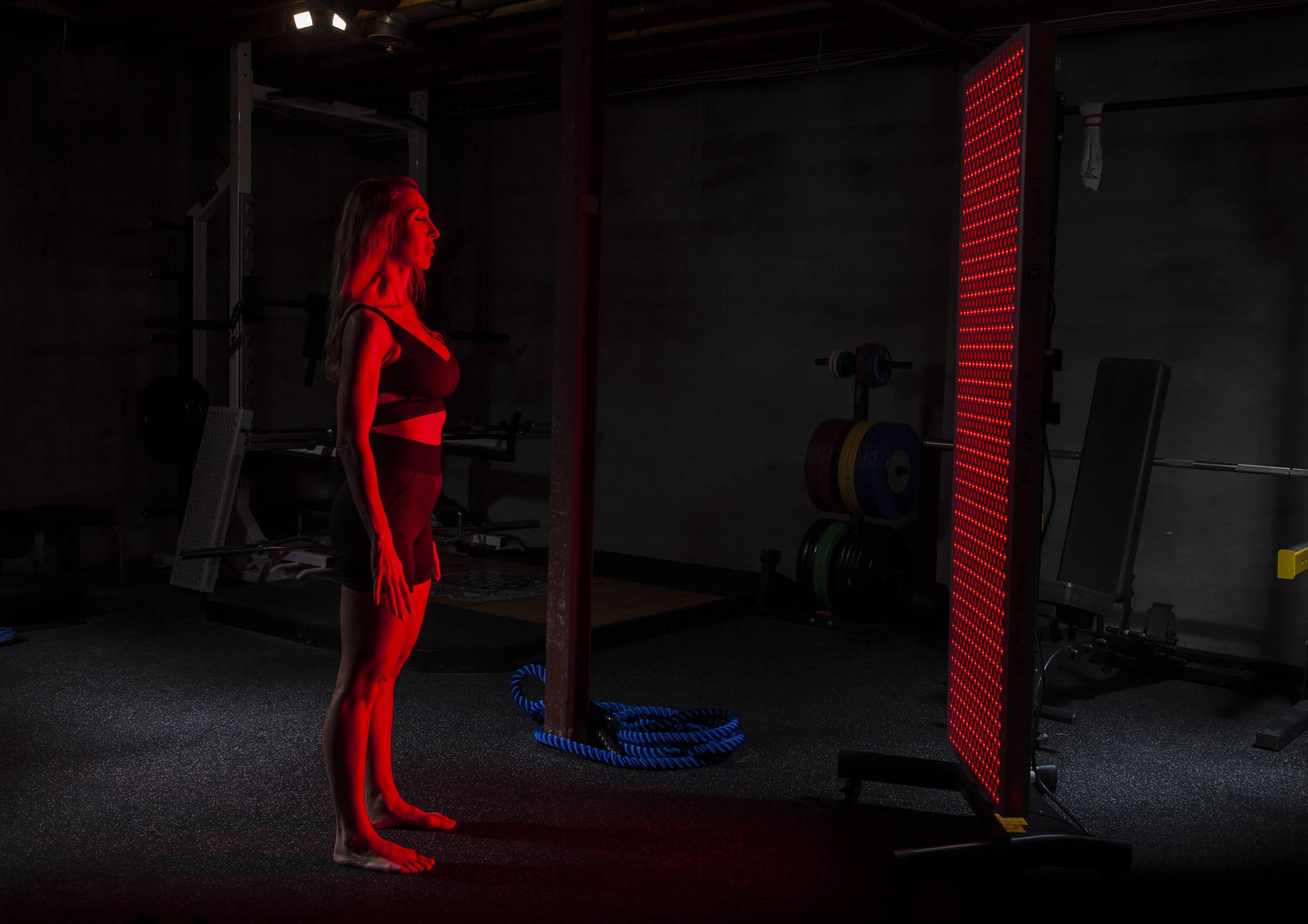 The name says it all. The Rouge Ultimate is currently one of the largest panels on the market at 70.86" x 23.62". It also has a whopping 1200 individual LEDs (600 red and 600 NIR). That's almost triple the number of LEDs on Joovv's largest full-body device!
With dimming options available for both red and NIR wavelengths, you can customize the intensity of your light therapy sessions to your desired level. The adjustable pulsing feature for NIR light further enhances your experience, providing you with even more control over your treatment.
The Rouge panel also comes equipped with a remote control, allowing you to adjust your settings without having to interrupt your session. The digital timer is an added convenience, helping you keep your therapy sessions within the optimal range. With the ability to connect to other Rouge panels wirelessly, you can easily expand your setup and enjoy an even more comprehensive light therapy experience.
We are true believers that the Ultimate is the best red light therapy device for everyone. After all, red light therapy is not simply a band-aid solution for specific issues; it works by optimizing the functioning of your own cells (this article on red light therapy for pain gives a great overview of how it works). With such extensive coverage, you'll find yourself treating issues you didn't even know you had.
As mentioned above, it's ideal for treating conditions that are not specific to one part of the body, such as fibromyalgia or rheumatoid arthritis. It's also the best choice for serious athletes who are looking to up their game.
The Max is an exceptional upgrade to our highly sought-after full body length panel for home and clinic use. This revolutionary product boasts a multitude of features that will exceed all your expectations. The Max is perfect for those with a slimmer physique when positioned close up, or for individuals seeking broader coverage from a distance.
Whether you're standing up close for deep tissue penetration or backing up for surface benefits all over, The Max has got you covered.
Experience the ultimate flexibility with adjustable pulsing for NIR light and dimming on both Red and NIR wavelengths. Plus, take advantage of the convenience of a remote control and a digital timer to ensure that your sessions stay within the optimal range.
But that's not all - The Max also features wireless technology that allows you to connect it with other Rouge panels!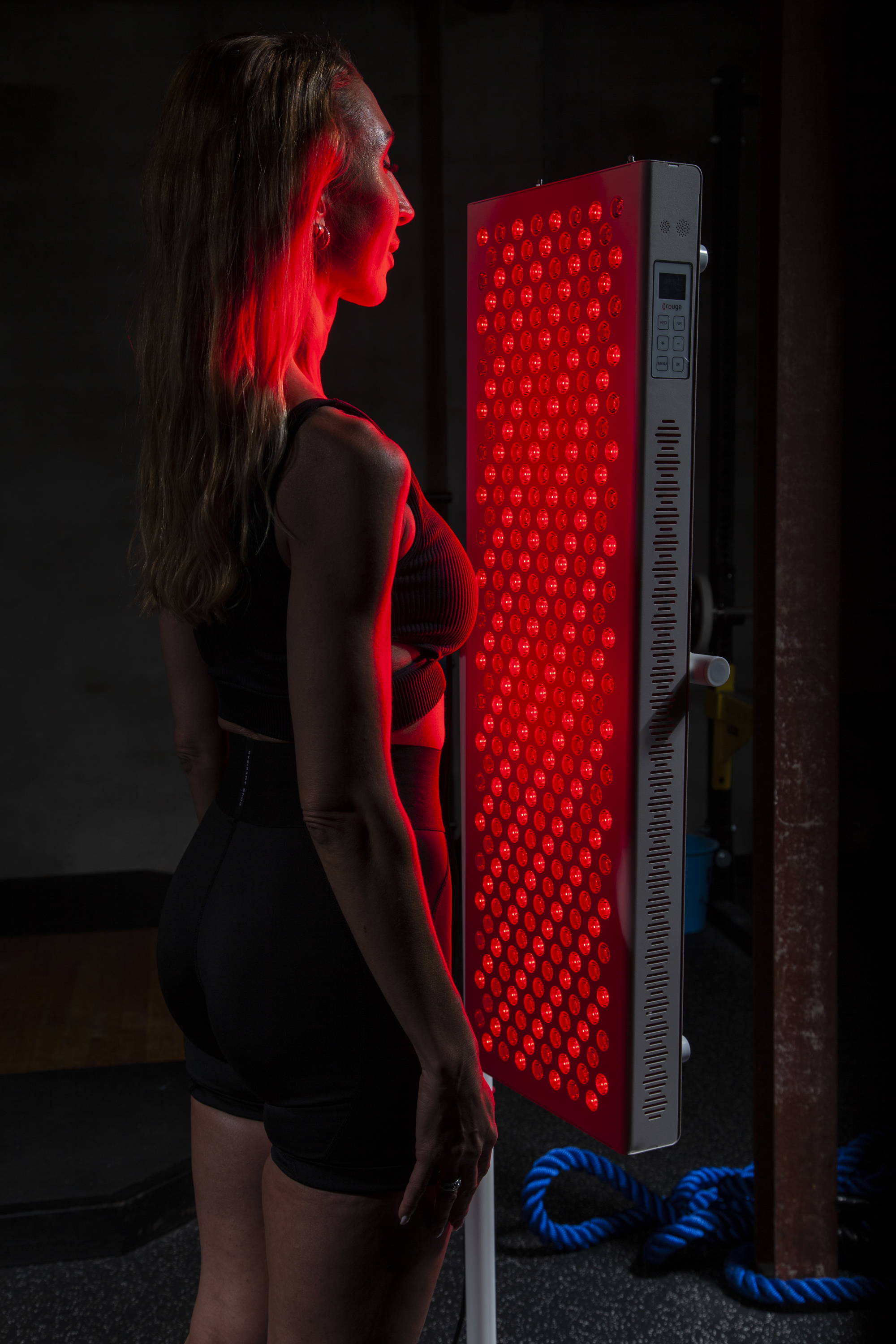 If you're wondering which is the best red light therapy device for you, think of the Rro as the Mama Bear of the group. At roughly a third of the size of the Ultimate, it has 300 of the same powerful LEDs to help you achieve superior treatment to larger areas of the body.
Some of the conditions that would most benefit from the Pro include chronic back pain, large muscle injuries, lung inflammation, and larger skin issues such as eczema, to name a few. It is also great to use before or after working out a certain muscle group to improve your performance, boost your gains, or even enhance weight loss.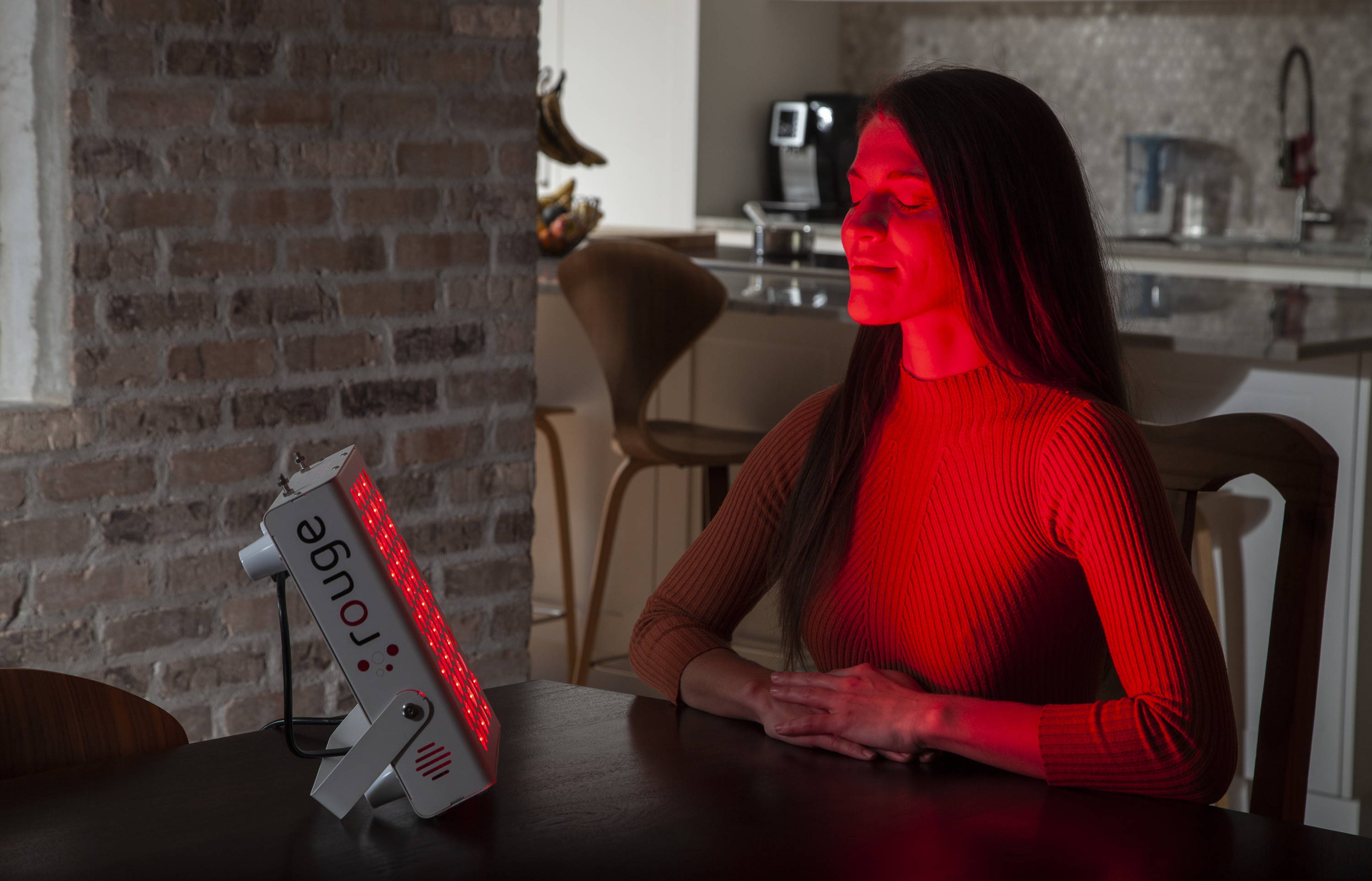 The Tabletop is many people's intro into the wonderful world of red light therapy. To some, it's simply a more palatable financial commitment if they've never tried it for themselves before. For others, it's a way to treat issues that involve smaller parts of the body (not that the issues themselves are smaller).
It's the perfect size for any issue related to the face, such as acne, rosacea, wrinkles, and loose skin, to name a few. It's also great to improve your oral health as well as to treat a plethora of eye conditions. You can also use it to speed up the healing process of wounds and scars, and to treat osteoarthritis in specific joints such as the hands or knees.
It comes with its own stand, so you can use it virtually anywhere, from the office, to the kitchen table, to the tray table on an airplane (just kidding, but it's a welcome addition to any hotel room!)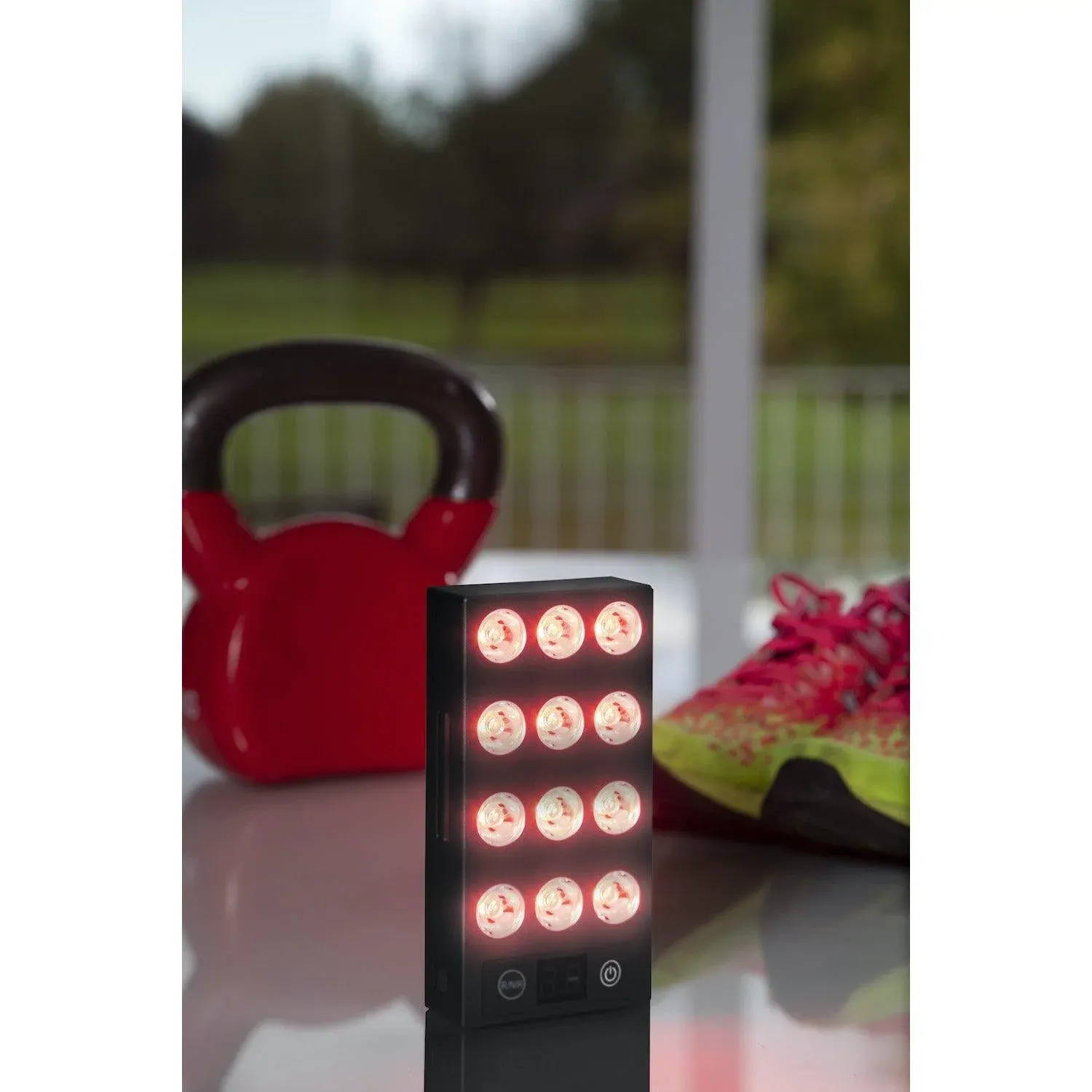 Speaking of traveling, this little guy can follow you everywhere you go. Not only is it the size of a smartphone, it doesn't require an outlet. The battery is rechargeable with a micro USB cable (included), as well, with a charge that lasts over two hours, meaning you can get a week's worth of sessions from a single charge.
You don't have to worry about choosing between red and near-infrared light either. Each of the 12 LEDs on the Nano is designed to emit either red or infrared, or both! You can choose red to spot treat skin issues, near-infrared to penetrate even deeper to soothe joint aches and pains, or both for all-around coverage.
The Nano is the perfect booster for when life gets in the way, allowing you to keep your treatment on schedule even when your own schedule is off the rails.
We Want to Help You Choose the Best Red Light Therapy Device - Just Talk to Us!
Our friendly and helpful staff are just as passionate about red light therapy as you'll soon be. They're happy to help guide you through the process of determining your needs and coming up with the right solution. The best way to get in touch is through the chat box on the bottom right of our website.
For more info on how red light therapy might benefit you, check out our blog, and get started on your journey to better health today.